High accolade for Metz OLED
Metz Novum OLED twin R receives Plus X Award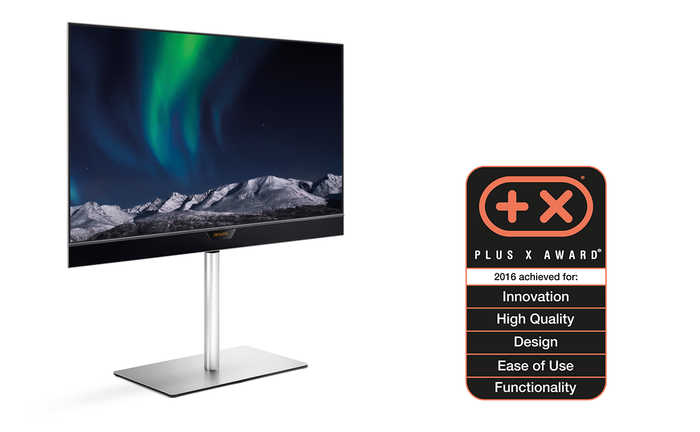 Zirndorf, 05.09.2016
It has just been announced that the Metz Novum OLED twin R has received the Plus X Award 2016/2017 in five categories: Innovation, High Quality, De-sign, Ease of Use and Functionality.
Metz CEO Dr Norbert Kotzbauer is extremely pleased with the Plus X Award. On receiving the award, he said: "The management and employees at Metz Consumer Electronics are proud to have received this high accolade for the Metz Novum OLED in no less than five categories. Almost two years after the company relaunch, the Plus X Award proves that Metz is one of the best brands with the best products in the world. As the Plus X Award emphasises: with its breathtaking picture technology, the Novum OLED is the best Metz yet!"
With an international and independent panel of expert judges from 25 industries, 23 competent strategic partners and more than 600 participating inter-national brands, the Plus X Award is currently the world's largest innovation award for technology, sport and lifestyle. Products that have at least one "Plus X" factor are distinguished with the Plus X Award seal of quality. The award is in recognition of newly developed and innovative technologies, ex-traordinary designs and intelligent and simple operating concepts. Other criteria such as good ergonomic and environmental product characteristics, a comprehensive range of functions, and the use and processing of high-quality materials also contribute to producing a sustainable product with a long life and, therefore, equally worthy of an award. The innovation award was initiated as a project for protecting and strengthening brands and trade as well as to improve orientation for end consumers, and as of 2016 is already in its thirteenth year. More information can be found at www.plusxaward.de
Metz received several awards for TV products at the 2009 and 2010 Plus X Awards. The renewed distinction of the Plus X Award further endorses the Metz company philosophy and the contingent commitment to high quality products "made in Germany".
The Metz Novum OLED twin R has recently received the renowned Plus X Award 2016/2017 in five categories: Innovation, High Quality, Design, Ease of Use and Functionality. The Metz Novum OLED is setting new standards with its breathtaking OLED picture technology and impressive design.