The new dimension in television
Metz Novum 65/55 OLED twin R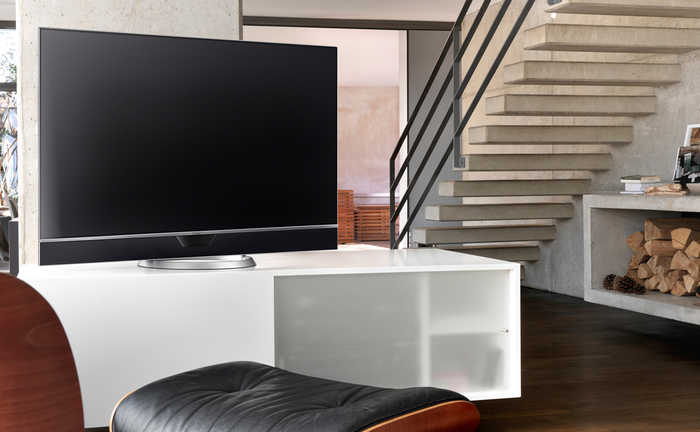 Zirndorf, 06.09.2016
The time has come for a new screen technology! Metz is introducing the Novum OLED, making it one of the first manufacturers to present a television with an ultra-modern OLED display. The Metz Novum OLED combines all of the typical qualities of a Metz premium TV with the most breathtaking screen technology of our time: a combination of the unique Metz operating concept, a twin multi-tuner, a digital recorder, powerful 2-way active speakers in a wooden housing, an elegant metal swivel base and an OLED plain-text display for showing channel names or the time on an ultra-flat latest generation UHD-OLED panel.
The Novum 65/55 OLED twin R is the new top model from Metz and offers a completely new viewing experience thanks to the latest and best OLED display. And thanks to the great advantages of OLED technology with organic, self-emitting pixels, the Novum's image captivates with hitherto unseen brilliance, delicate shades of black and fascinatingly natural colours. 33 million white sub-pixels, each of which can be individually controlled, are used in our sophisticated and reliable Metz OLED screens. To display real black, dark image areas can be turned off with pixel-precise accuracy. This makes it possible to reach previously unachievable levels of black. It also means particularly high-contrast images with lifelike colours. The 10-bit colour depth with up to four times finer gradation ensures bright and natural colour rendering – from every angle and with evenly balanced illumination. The self-illuminating pixels enable an ultra-fast reaction time: the screen reacts more quickly and more fluidly than ever before. Breathtakingly sharp thanks to UHD resolution (3840 x 2160 pixels), with HDR and flicker-free, 3D polarised filter technology.
The Novum family is available in both a generous 65-inch screen size, and in a slightly smaller 55-inch version. The Novum OLED twin R's beautifully polished aluminium frame means that the breathtakingly slim Novum OLED twin R's aesthetics are top class, too. Additionally, the rotating circular table stand (optionally available as a floor stand for Novum 65) made of brushed stainless steel is particularly eye-catching. State of the art OLED technology, ultra-sharp UHD reso-lution, high-contrast HDR Dynamic Range Image, the latest High Efficiency Video Coding (HEVC, also known as H.265), 3D technology, wireless interfaces (WiFi, Bluetooth®), various networking capabilities, and access to a Smart TV portal make the Novum an absolute perfectionist. Thanks to the integrated 1TB digital recorder and the twin multi-tuner (2x DVB-C/T2/S2), you can record two different programmes simultaneously. The sound system in its wooden housing also sets new standards and provides 80 Watt output with 4 fully active speakers that can be controlled individually. This makes for outstanding sound quality with brilliant mids and powerful bass frequencies. Bluetooth® wireless technology can even be used to connect the Novum OLED directly to headphones or a mobile device. High-quality APTX audio codec support provides enhanced wireless listening pleasure.
Elegant, beautifully polished aluminium lends the extremely slim Novum OLED twin R a high-quality, timeless touch of flair. The Novum is available in screen sizes of 65 inches (165cm) and 55 inches (140cm), and with a rotating circular table stand made of brushed stainless steel (optionally available with a floor stand for Novum 65). The OLED plain-text display above the sound module, which displays the name of the programme and the time, provides real added value.