Metz at IFA 2017
Fascinating screen technology – Made in Germany.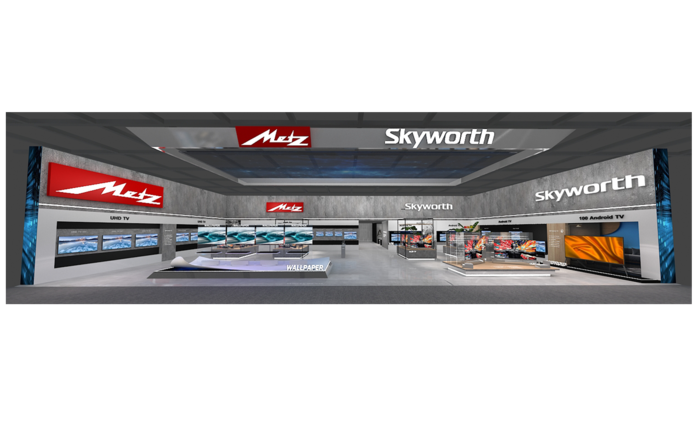 Zirndorf, 18.08.2017
At this year's IFA, Metz – along with parent company Skyworth – will be presenting new products and innovations from both brands. Visit us at booth 201 in Hall 6.2b from 1 to 6 September 2017.
1,800 exhibitors from 50 countries as well as 240,000 visitors will once again travel to Berlin during the first week of September to present and find out about innovations at the leading global trade fair for consumer electronics and household appliances. And, of course, Metz Consumer Electronics GmbH will be there, too. In 2017, we will once again be represented at IFA along with our partner Skyworth, where we will be presenting new products from both brands at our shared booth.
In addition to enhancements to the existing portfolio and the new HDR functionality of the Metz Topas and Metz Planea product families, we will also be presenting a new Metz product family with UHD screen technology in the premium entry-level segment. Together with our partner Skyworth, we are also taking the next step towards new screen technology and will be giving a first look at the technological developments that we are working on at the moment: in addition to a unique Wallpaper OLED TV, we will also be showing the way to the smart TV solution Android TV.
As one of the last TV manufacturers to develop and manufacture its products in Germany, we will be demonstrating with these innovations and a diverse product range at this year's IFA that fascinating screen technology, innovative solutions and German craftsmanship are not mutually exclusive.
Overview of the Metz product range at IFA 2017
Metz Novum OLED twin R
The new dimension in television.
The Metz Novum OLED offers a completely new viewing experience thanks to the latest and best OLED screen technology. The Metz Novum OLED uniquely combines all of Metz's typical benefits with the most breathtaking screen technology of our time: a combination of a UHD 3D OLED screen, our best sound system, the unique Metz Tri-Star operating concept, a twin multi-tuner, a 1 TB digital recorder, an elegant metal swivel base and an additional OLED display for showing channel names or the time.
More information.
Metz Topas TX95 UHD twin R: Now with HDR!
When good is not good enough.
The Metz Topas offers first-class viewing pleasure. Its advanced UHD tech-nology provides outstanding sharpness and detail. With HDR (High Dynamic Range) functionality, the Topas offers an exceptionally high contrast and a broad spectrum of colours. UHD content can be played back using USB and network connections and the twin multi-tuner receives UHD content via satellite (DVB-S2). Numerous convenient functions such as the integrated digital recorder with 1 terabyte recording capacity complete this extraordinary television.
More information.
Metz Planea TX77 UHD twin R: Now with HDR!
That's how simple genius can be.
The perfect combination of tried-and-tested 800Hz MetzVision picture tech-nology and energy-efficient LED technology means the elegant Planea UHD fulfils highest demands upon picture quality. The colour display is brilliant and natural, the rich contrast levels impressive. The Planea UHD twin R handles even rapid movements such as panning shots with ease. Moving scenes are fluid and sharp and appear particularly natural. The exclusive slimline soundbar refines your viewing pleasure by means of 6 front-facing speakers that deliver exceptionally high performance. An integrated digital recorder with 500 gigabyte recording capacity completes this television.
Metz Cosmo: Compact and connection-friendly.
Viewing pleasure in its purist form.
Good looks aren't everything. The Metz Cosmo also impresses with its inner qualities: the modern LED technology and 200 Hz MetzVision picture technology deliver a visibly incredible viewing experience. The intuitive operation of the self-explanatory Metz concept makes watching television child's play. The slimline soundbar fits in perfectly with the Cosmo's tasteful design and features forward-facing speakers. The MetzSoundPlus technology with a sealed 2-way bass reflex system ensures an impressively full, clean sound with brilliant treble and bass tones.
More information.